Appollo från Frihamra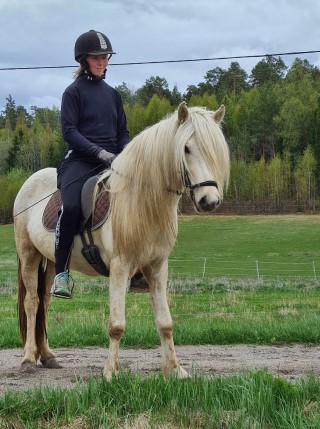 Sex - Stallion
Regnr: SE2018
Color - palominopinto
Appollo =
Born - 180413
For sale for 35 000 SEK
Back to salehorses
*******************************************************************************************************************************************************
Information
Stallionfoal born April 13th 2018. Palomino pinto. BLUP 105. Beautiful and charismatic foal with strong legs and nice conformation, moves with high movements and speed. Curious and well behaved but not handled much.

Father is elite stallion Illingur frá Tóftum, with a total judgement of 8.73 with 8.88 for riding abilities. Mother is Lysa fra Langtved, a really sweet and beautiful mare who has given offsprings with great gaits and lots of mane and tail, something Appollo seems to inherit as well.

Appollo will fit perfectly for someone looking for a future competition horse who definitely will catch everyone's eyes or for breeding. Price is 35 000 SEK or around 3 500 EUR, and he can leave his mother when he is around 8 months old.
***********************************************************************************************************************************************
Pedigree
Illingur frá Tóftum
ext. 8.51 rid. 8.88 tot. 8.73
Númi frá Þóroddsstöðum
ext. 8.48 rid. 8.78 tot. 8.66
Svartur frá Unalæk
ext. 8.18 rid. 8.90 tot. 8.54
Glíma frá Laugarvatni
ext. 8.03 rid. 8.27 tot. 8.15
Hrísla frá Laugarvatni
ext. 7.95 rid. 8.17 tot. 8.06
Gáski frá Hofsstöðum
ext. 8.10 rid. 8.53 tot. 8.32
Hera frá Laugarvatni
ext. 8.00 rid. 8.08 tot. 8.04
Lýsa fra Langtved
Hamur frá Blesastöðum 2
ext. 7.91 rid. 8.22 tot. 8.10
Dynur frá Svínafelli 3
ext. 7.65 rid. 7.44 tot. 7.55
Sara frá Blesastöðum 2

Fluga fra Gl. Essendrup
ext. 7.80 rid. 7.43 tot. 7.58
Þjálfi frá Keldudal
ext. 7.83 rid. 8.03 tot. 7.93
Sif fra Hem Dalgaard

*******************************************************************************************************************************************************
Pictures
*******************************************************************************************************************************************************
Film