Sólvindur från Frihamra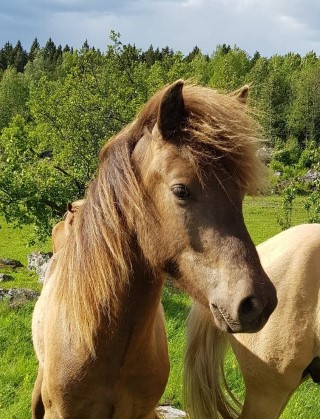 Sex - Gelding
Regnr: SE2017111911
Color - Black
Sólvindur =
Born - 170625
For sale for 35 000 SEK
Back to salehorses
*******************************************************************************************************************************************************
Information
Promising gelding born 2017. Solvindur is black with a creme gene (from his mother). He has very nice conformation, well raised and good proportions. Moves with supple gaits, good speed and control. Something for future competition or just an eye catching luxury horse. He will probably end up being around 140 cm in height.

His father is elite stallion Illingur frá Tóftum, judged to a total of 8.73, with 8.88 for riding abilities. He also came second at Landsmot 2008 in A-flokk. Mother to Solvindur is 1st prize mare List frá Naustum, judged to a total of 8.08.

Solvindur combines strong horses like Orri frá Pufu (8.34), Nattfari frá Ytra-Dalsgerdi (8.54) on his mother's side, with Svartur frá Unalaek (8.54) and Gaski frá Hofsstödum (8.32) on his father's side. Really exciting for the future!
***********************************************************************************************************************************************
Pedigree
Illingur frá Tóftum
ext. 8.51 rid. 8.88 tot. 8.73
Númi frá Þóroddsstöðum
ext. 8.48 rid. 8.78 tot. 8.66
Svartur frá Unalæk
ext. 8.18 rid. 8.90 tot. 8.54
Glíma frá Laugarvatni
ext. 8.03 rid. 8.27 tot. 8.15
Hrísla frá Laugarvatni
ext. 7.95 rid. 8.17 tot. 8.06
Gáski frá Hofsstöðum
ext. 8.10 rid. 8.53 tot. 8.32
Hera frá Laugarvatni
ext. 8.00 rid. 8.08 tot. 8.04
List frá Naustum III
ext. 8.28 rid. 7.95 tot. 8.08
Stæll frá Miðkoti
ext. 8.10 rid. 8.27 tot. 8.20 4-g
Orri frá Þúfu í Landeyjum
ext. 8.08 rid. 8.61 tot. 8.34 4.g
Elja frá Kirkjubæ
ext. 7.88 rid. 7.69 tot. 7.78
Leira frá Syðstu-Grund
ext. 7.23 rid. 8.17 tot. 7.70
Náttfari frá Ytra-Dalsgerði
ext. 8.00 rid. 9.08 tot. 8.54
Molda frá Syðstu-Grund
***********************************************************************************************************************************************
Pictures
*******************************************************************************************************************************************************
Film